There are many reasons why you might decide to keep your WordPress website even if you have switched to or signed up with Kajabi. WordPress has powerful tools and integrations that can help you to acheive all of your online goals. With over 455 million websites across the internet using WordPress, there is a plethora of resources, add-ons technology and support available to you. There are many benefits to this, here are some of my favs: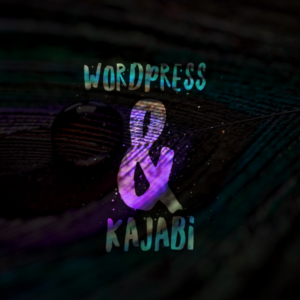 Ahead of the curve technology updates.
Long term relationship with search bots.
Plenty of free & professional support available.
Low Entry Cost.
Easy & beautiful design templates.
Durability & security.
When you are building a website there are a million questions to answer, and one of my favorite things about WordPress is that even if you don't have the answers to all of those questions right now, you can get stated with WordPress and add the parts that you need later. Due to being the #1 choice for so many developers, there is already a solution for most things. You can easily add, memberships, products, submissions. communities, courses, rss feeds, advertisements, forms, tests, quizzes… etc. So even if you are not sure what your site might evolve into, the odds are that WordPress has a plugin or integration that will work.
Adding the Power of Kajabi to your game.
When we are talking about powerhouses Kajabi does email automation very well, and while you can create user-friendly courses and captivating landing pages, you are limited in taxonomies and functionality. If you are busy content creator, WordPress will give you the most options as far as how you can leverage that content. Working from both platforms can serve you well, if you leverage that content and community, between the sites.
Seamless design and attention to detail can give your users an excellent experience as they navigate the two sites. You want to make sure that your call to action is clear and easily accessible on your WordPress site.
If you manage the content flow, you should be able to funnel your wordpress users and community straight to your Kajabi products.
If you are looking to make an integration, I would be happy to consult or install your seamless design.